It will probably take a few seconds before you start to frown, trying to figure out what Dana Ellyn's paintings mean. You can hate them or relish them for moments – It all depends on how conservative you are during these turbulent times
Five blocks from the White House stands the studio where one of the most controversial artists in the American landscape, Dana Ellyn, resides. She is known as the 'Vegan Artist', and her work has received international attention, represented the animal rights organization 'PETA', and won Ellyn a variety of prestigious awards. In her paintings, she describes political issues in Western culture through grotesque depictions and psychedelic touches. Humanity's rat race is one of her favorite subjects. Among her paintings, Ellyn criticizes junk food culture, religious status, ignorance and racism, and one particularly complex question: "Why do we choose to eat certain animals and refuse to eat others?" The issues Ellyn tackles in her paintings strip away the assumption that the United States is a symbol of freedom, despite the statue that continues to rise above Liberty Island, overlooking Manhattan. Instead, Ellyn criticizes and sheds a startling and threatening spotlight on the American dream.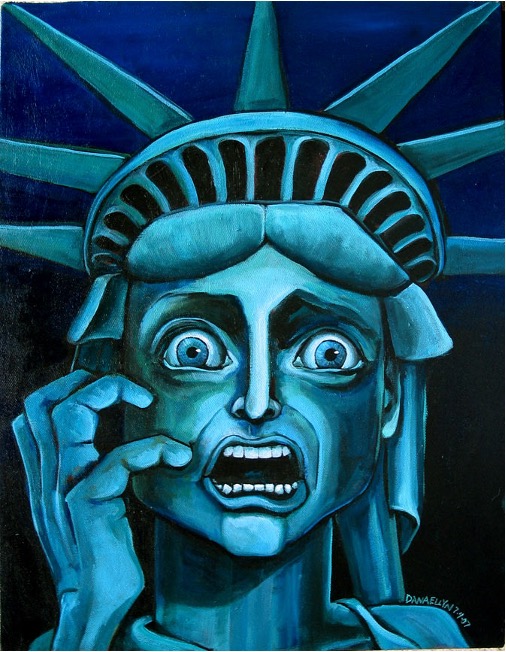 In our conversation, she tells that her love of art was the answer to the loneliness she experienced from a young age. "I've always been a painter," she says. "I spent most of the time with my bedroom door closed, reading books, scribbling on paper, and daydreaming." Ellyn experienced her childhood through the arguments and family tensions at the dinner table. This is how she began to create an inner world in which she could express herself, through art. "After many years of holding my tongue and trying to do everything quietly, I finally found my voice," she adds. "I believe that the ability to be alone is a quality you need to have as an artist".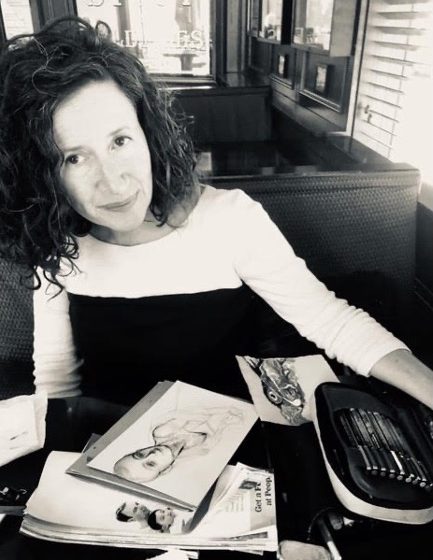 What is your first memory as a painter?
"I have memories of all sorts of events where I felt that painting was an integral part of me. For example, I remember myself as a toddler sitting on the floor, assembling structures with my Lego. And when I was six, I drew a picture of my aunt and uncle naked at their wedding. But it's not only the nudity that was so unusual for my young age, but also my developed imagination. In the painting, my uncle's penis stretched over his neck to be used as a tie, and it was quite amusing".
Ellyn's peculiar themes did not disappear from her paintings but were exaggerated and enveloped in the passion of creativity. She uses people's sense of embarrassment to tackle issues that are considered taboo in Western culture, turning them into practical tools: "The everyday indifference and banality obscure the art in the realm of reality. Paintings that trigger emotion can take us out of our comfort zone". Ellyn's means used in her paintings can be interpreted as a provocation, but it's simply impossible to stop lingering on them.
Ellyn knew from a young age that if she wants to pursue her art, she must find a source of income that would help her accumulate a small fortune. That way, if she worked hard enough – she would have the chance to become a full-time artist. But the perfect plan that Ellyn created in her imagination was full of obstacles. "At the age of 18, I moved to Washington DC as a college student. Despite wanting to explore, to experiment, to find myself, I allowed myself to enter a very traditional path – got married right after college, found a job with a good salary, and maintained a comfortable and quite predictable life".
Ten years after graduating from college, she held a senior position at a law firm in Washington, D.C., but never stopped dreaming of becoming an artist. "I was waiting for the right moment, looking for a way to make my dream come true," she says. Then she met the artist Matt Sesow, her current partner. He was already a well-known painter when they met, and she would attend his exhibitions. "His paintings were so different from what I had known before – his Expressionist genre gave me the audacity to try it out myself," Ellyn says. "I learned to let go, to put myself and my feelings into my art. I realized that making a mistake while creating art is a vital aspect of growing up as an artist".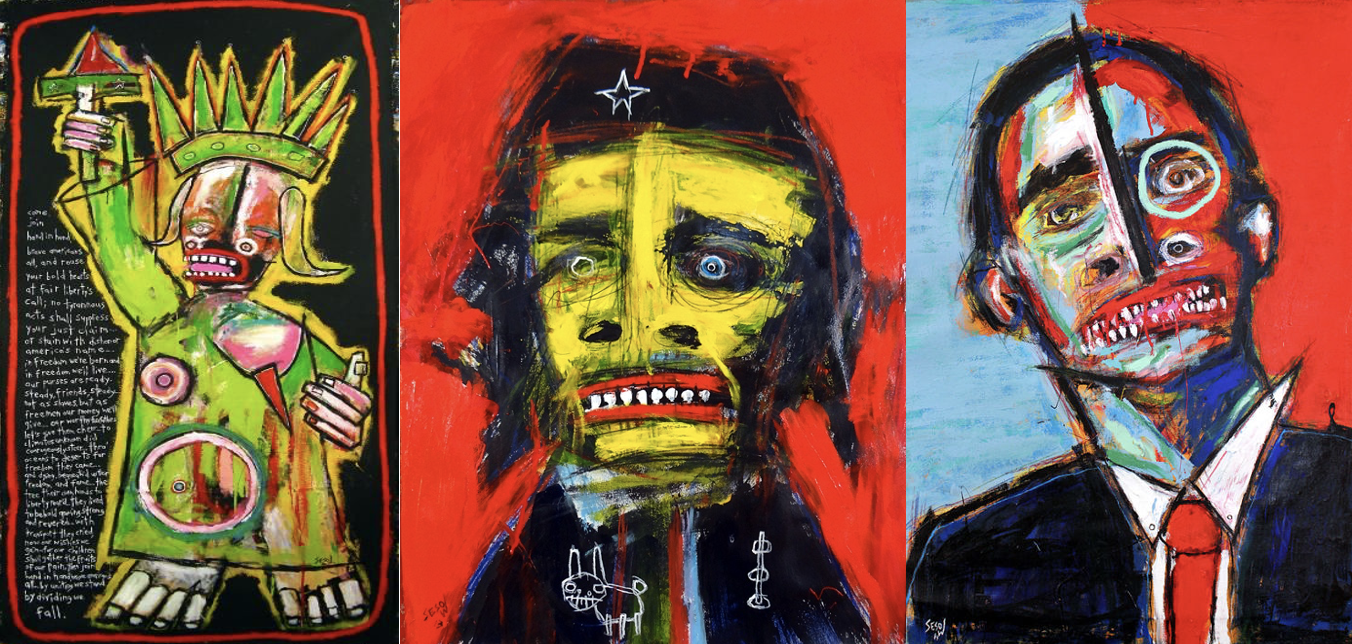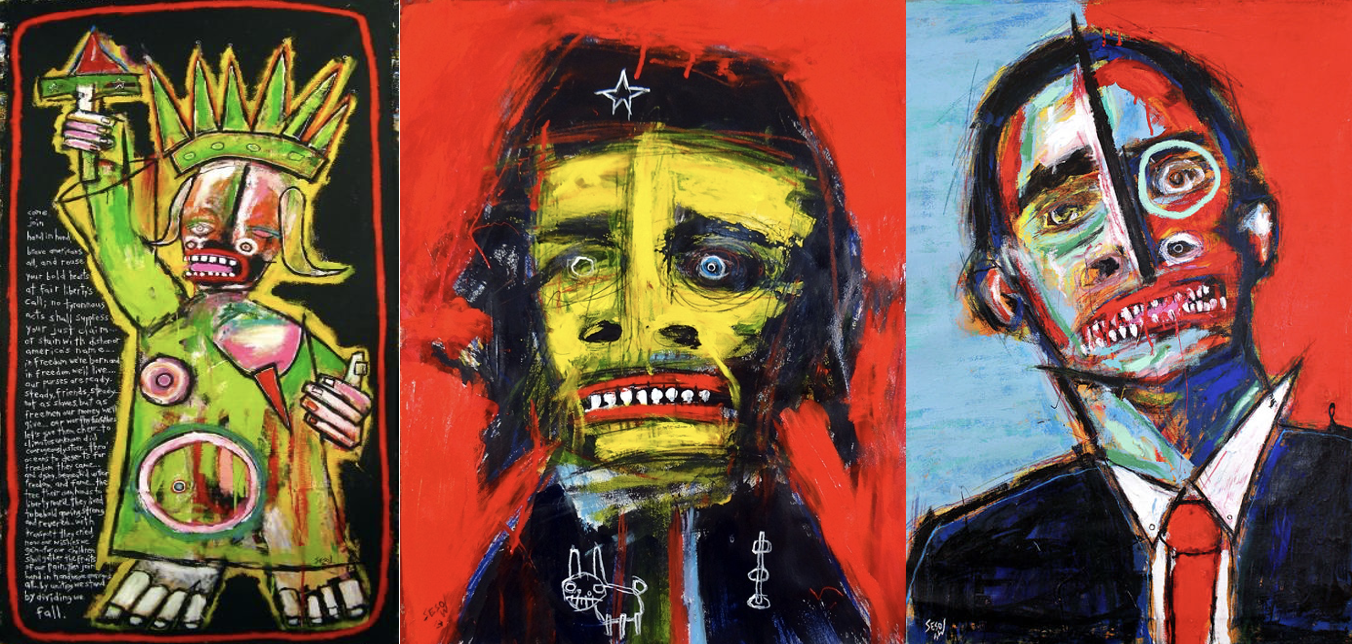 Sesow, Ellyn's spouse, mainly paints in the Washington, D.C. area. The story of his unconventional life inspires anyone who has ever thought it's impossible to fulfill their dream. An accident caused by a plane propeller ended in him losing his left hand at a young age. He testified that he channels his paintings into dealing with the trauma of the severe injury.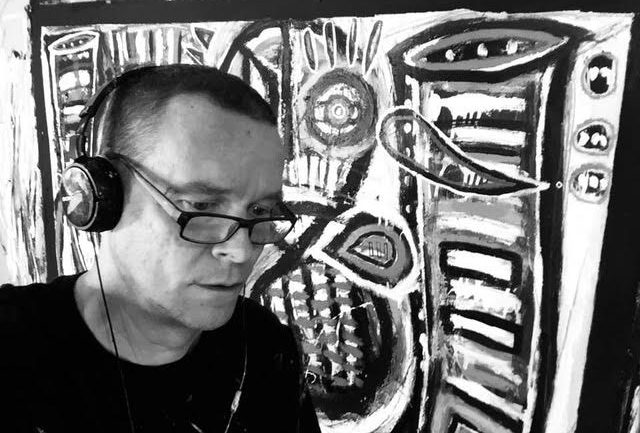 One of the couple's famous projects is '31 Days in July', a collaboration with the Washington, D.C. municipality. Inspired by the US 2003 invasion of Iraq, they decided to commemorate various incidents that did not receive sufficient media attention by painting every day on each July for ten years. The project included more than 300 paintings of the two.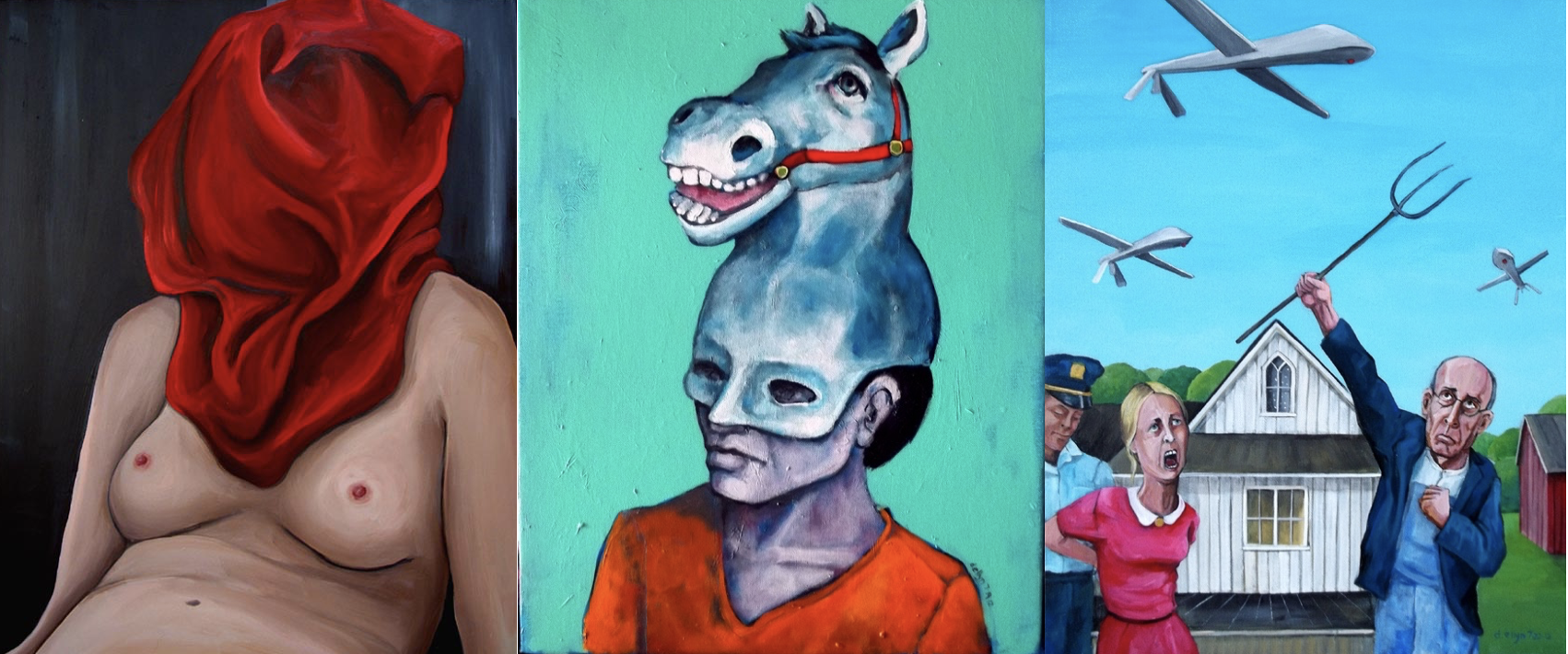 While working on this project, you also drew a series of paintings of US presidents. Why did you choose this particular theme?
"I wanted to add another series, and I started the Presidents series in January 2008, with a desire to end the series on the day Barack Obama was sworn in as president. So I have created one painting inspired by every president in history, along with many paintings of the candidates in this election cycle. It was fun doing all the research, and it's among the most important series for me. I thought this might be a series that people could learn from. Some of the paintings were inspired by silly anecdotal stories, and others stemmed from events of historical significance."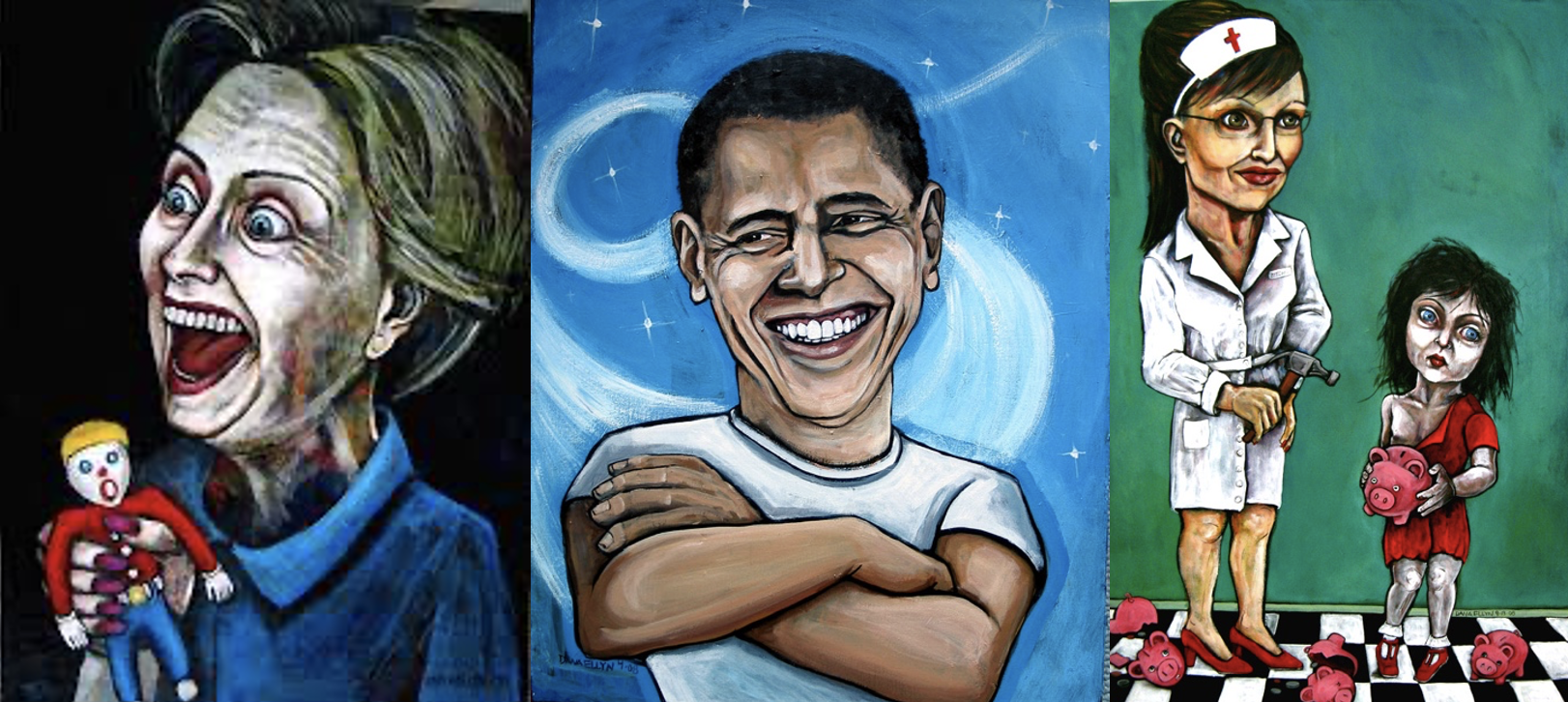 There is a riddle in each of Ellyn's paintings. She plants references that require the viewers' slight knowledge of the American culture. Thus, Clinton is described as a liberal monster who threatens to enslave the white man. But, of course, we all know how it ended, with four years starring Donald Trump. You don't have to think much to see the connection to the local scene in Israel as well.
Most of your paintings depict women, especially in relation to animals. Do you see a connection between the oppression of women and the oppression of animals?
"The reason my paintings primarily include women is due to the fact I am a woman, and that is what I know. Besides that, I think paintings that depict women bring artistic aesthetics. For me, the connection between women and oppression is another layer in art. It happened naturally. I believe that these two issues are related to each other, and anyone who cares about one issue will naturally be sympathetic and aware of how the other issue is treated as well״.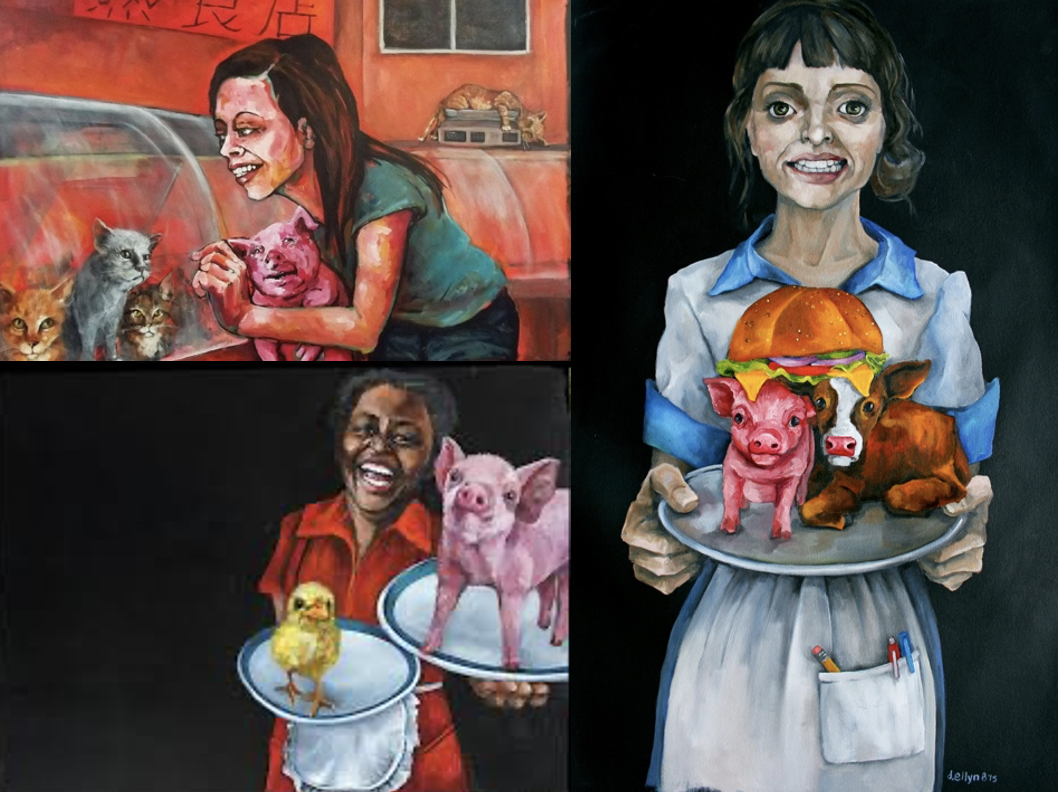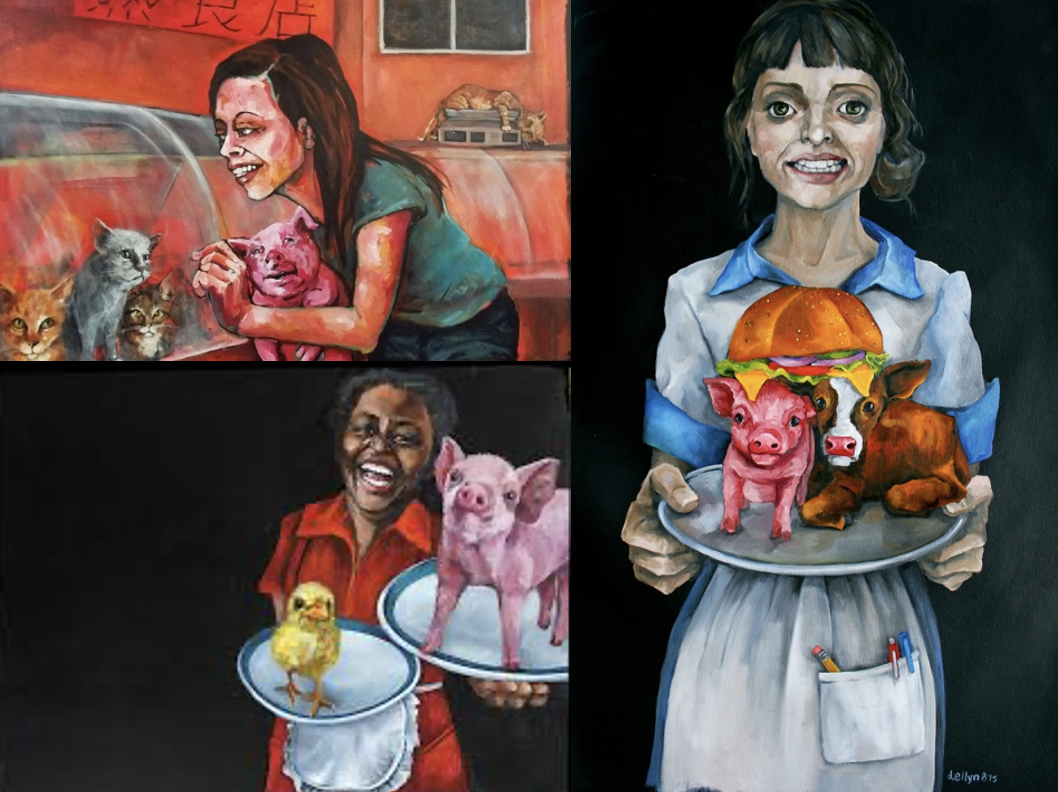 The meat industry has used the connection between women and oppression in their advertised products, and it's not a coincidence at all. "There is a connection between masculinity, nationalism and meat-eating, while the female becomes a tool within this imaginary triangle," claims Dr. Tali Goldschmid, director of the 'Mindfulness Center for Refugee Children' in Southern Tel Aviv, and author of the article 'A Piece of Meat: Women and Animals as Consumer Products in Advertisements'. "It took me a while to figure out how the meat industry is based on exploitation and related to women's oppression. It happened after I gave birth to my eldest son. Coincidentally, when I was exposed to the dairy industry and saw animals breastfeeding their offspring, I suddenly saw the connection between the status of women in Western society and the animal exploitation industry. These are different facets to the same oppression. Women need to band together against oppressed groups. You can't allow yourself to prioritize when it comes to killing so many animals. Women who present themselves as feminists and eat meat are denying this distinction. A woman can not define herself as a feminist if she eats animals. It does not work". As for Ellyn's paintings, she says that her paintings are subversive on how they raise the issue on the cultural agenda: "The role of art is not necessarily to amuse but primarily to shock us. In Israel, one hardly sees subversive art because we are a conservative country, and everything is subjected to it. You have to look for these places, even if they are not easy to find."
In recent years, there's a rising awareness of women's oppression, especially with the #MeToo movement and the transition of many to vegetarianism and veganism. However, we still see comparisons in visual images, specifically in ads, between women and meat. Ellyn feels that it all comes down to money: "Whatever sells will be used and exploited. It's pretty insane to see how much exploitation of animals in the meat industry is still acceptable. For example, I usually do not watch much television, only movies without commercials, but I am proudly aware that none of the commercials are directed at me when I do watch them. I don't use anything that is sold there – not meat, not fast food, not prescription drugs, I have no car and no children, and the list goes on. Sometimes I think for a moment that maybe I'm weird that I don't engage with anything from the mainstream. But then I come to my senses and realize that I'm very proud to live my simple life and I'm not a follower of anything marketed".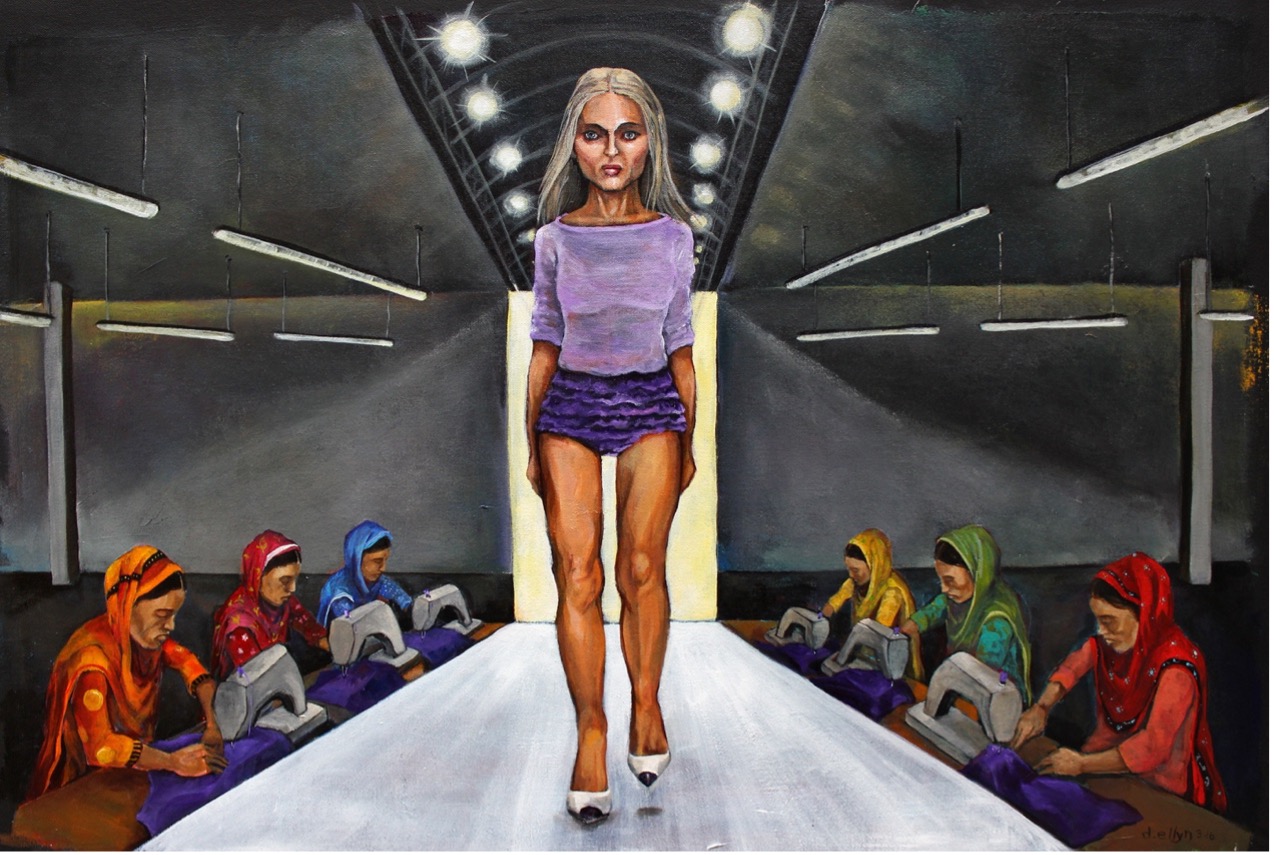 Do you personally know people that have decided to switch to vegetarianism or veganism thanks to your paintings?
"Yes, absolutely, it has happened quite a bit, and I relish it every time it happens. I hope it continues to happen until everyone gets the message. My favorite story is about a client who bought one of my ironic pig paintings with the text at the bottom that reads "Ceci n'est pas du bacon" ("It's not bacon"). The painting is a reference to Magritte's iconic pipe with the caption "Ceci n'est pas une pipe" ("It is not a pipe"). Although the customer was a meat-eater, she still wanted to buy the painting to hang as a decoration in her kitchen. She knew I've drawn it from my vegan point of view but she loved it "for the wrong reasons". Justice prevailed and she admitted to me months later that she felt guilty eating bacon, and she finally became vegan!".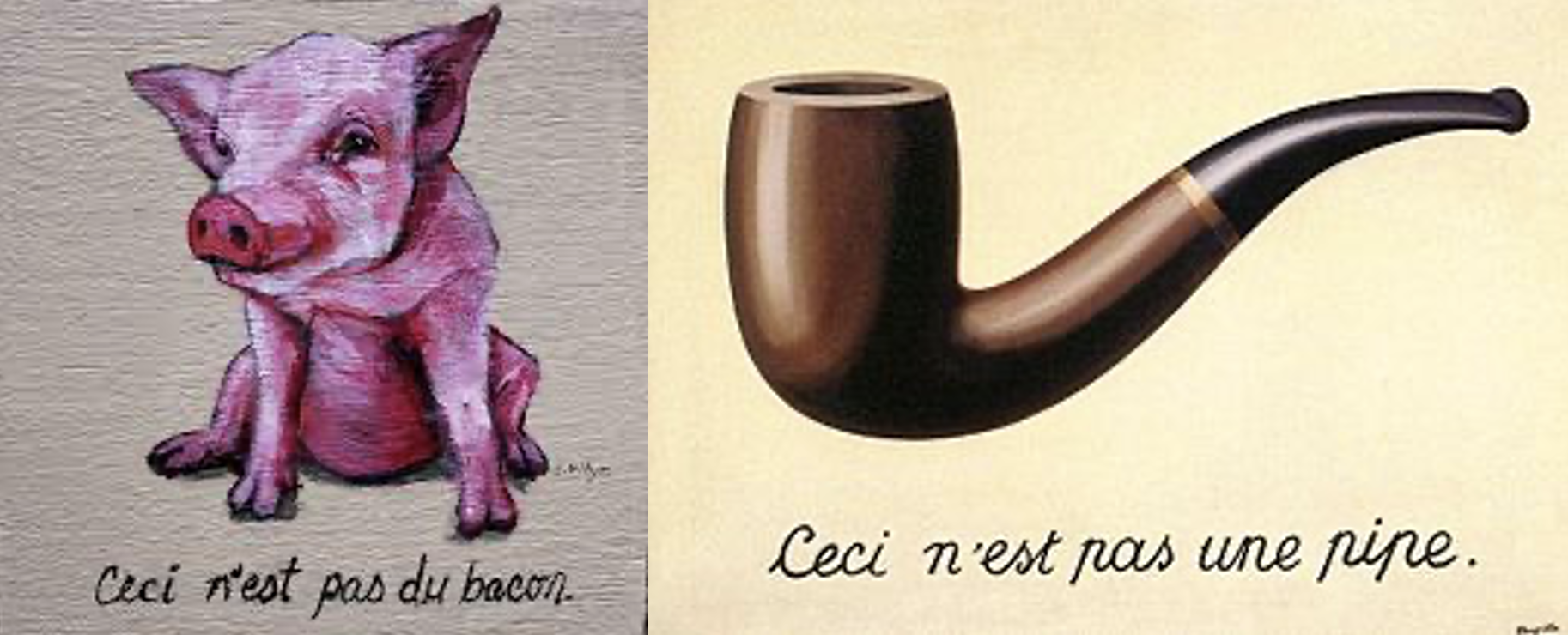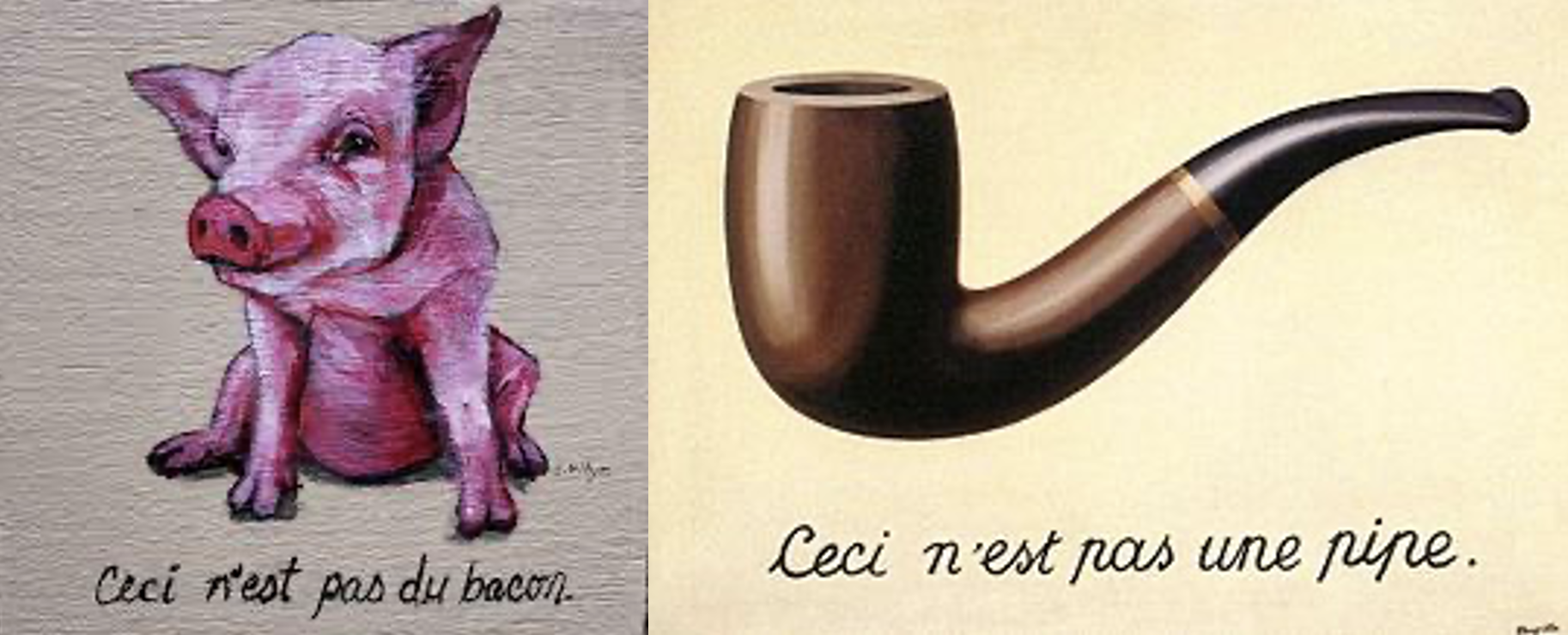 Women and animals are not the main characters in Ellyn's paintings. She also has quite a few children in them. When asked about that, Ellyn smiles. "On the one hand, it's weird because I have no children, I never wanted children, and didn't even babysit a child in my life. But I have found that using children in my art is an effective way to get viewers to look at my paintings. Once people see a painting depicting a child, they assume that it will be about a delicate or innocent subject. They are drawn to look at my drawing the same way they'd watch a puppy dog. Children are a safer and more accessible means to the audience and pull much harder on the heart's strings. But what is different about my paintings is that they are far from relaxing as they seek to shock you, and send a disturbing message."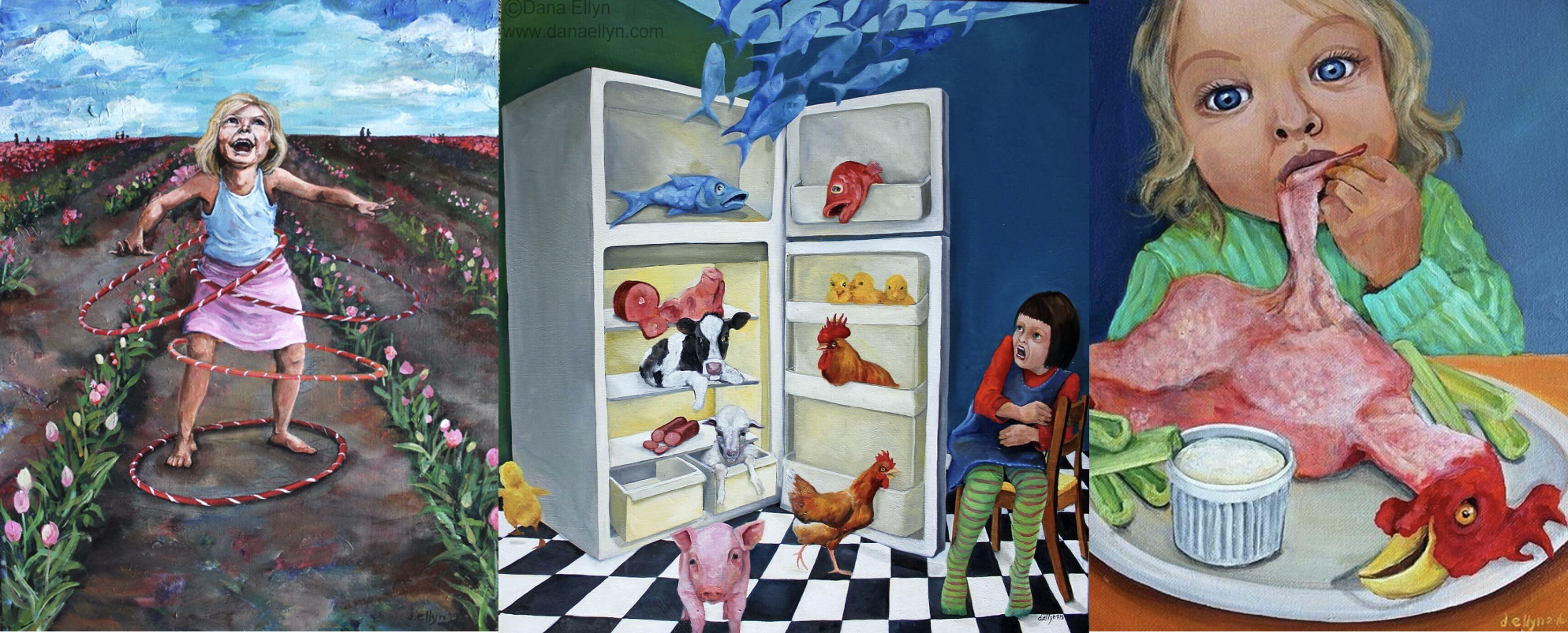 In addition, she plants feminist statements in an intimate and claustrophobic disguise. In her series of paintings, 'Happiness', she paints herself in the moments that are supposed to be the greatest in her life. She is not happy with any of them, except for the last one, in which she is portrayed as being loyal to her choices with her two cats wrapped in her arms. Ellyn's paintings are a reflection of reality. Ellyn's female representation in her paintings are awkward yet natural, in the depiction of the wrinkles and circles under their eyes, far from the ideal of beauty. She presents these women through their alignment with reality. In one of her paintings, Ellyn paints herself sitting on a pedestal, looking straight at the viewers. Her clumsy body leans into the toilet. Her legs are spread out in submission. Ellyn despises the culture of female empowerment that lurks under self-flagellation – the best version that society longs for you to be. The photos on Instagram will show the 2 AM shots, but they will refuse to show what happened after the party when you sit alone by the toilet for a good few hours.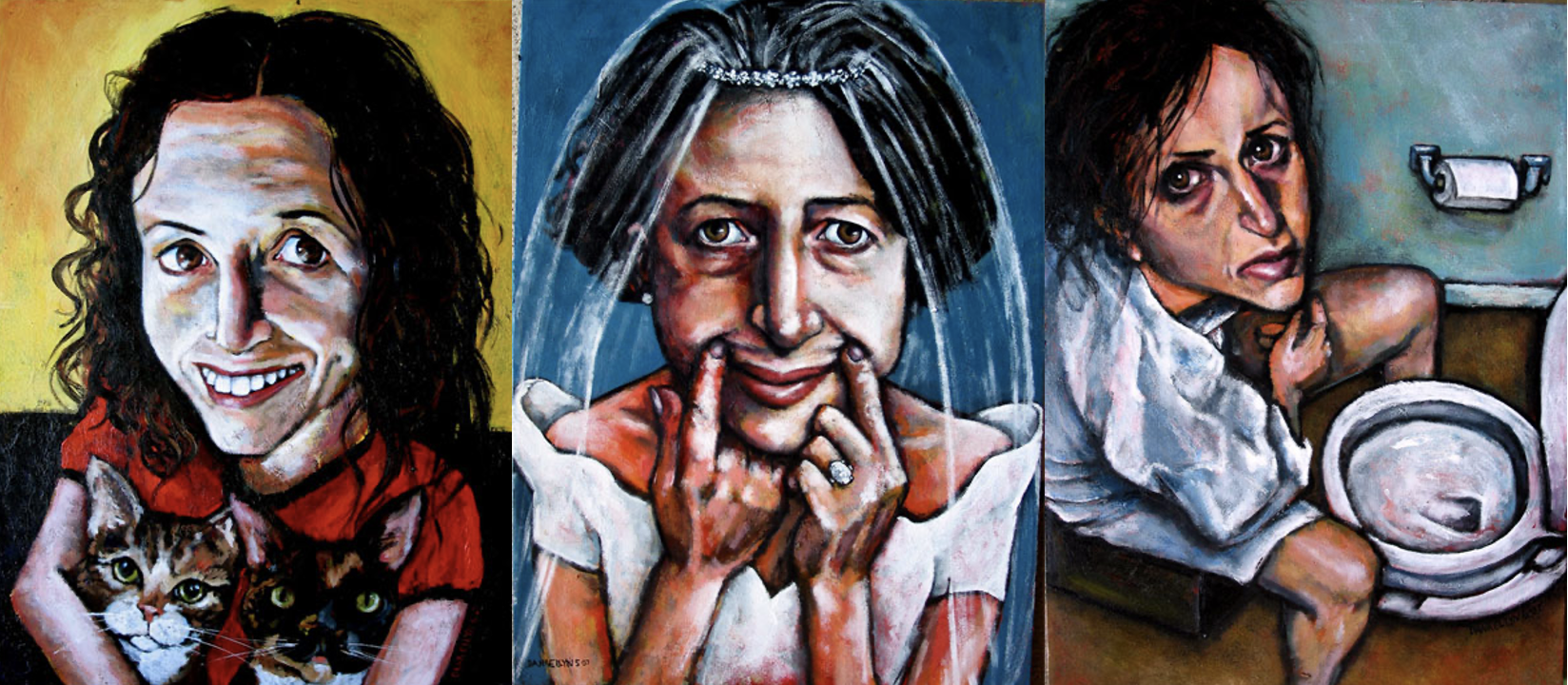 Ellyn grew up in a home with a Jewish family history, even though she does not consider herself as Jewish, and never received any religious instruction. "It was part of my motivation to dive deep and learn about all religions, and I think because I grew up without a clear religion, I got an objective perspective into my work."
Following the visible messages in her paintings, Ellyn has often faced collectors, investors, and exhibitors who refused to display her paintings. In addition, some of her religious paintings were regarded by conservative circles as an uprising against their Christian and Muslim institutions and called for a fight against art that spoils morals and desecrates holiness.

You have received quite a bit of criticism from religious conservatives in the past following some of your paintings. Is it scary to fight such strong and well-established groups in the US?
"My art brings different reactions. The less creative commentators, especially meat-eaters, release hatred and contempt in response to my paintings. Usually, they will say things like 'you do not even know how to draw' or other poor attempts. The comments that left a mark were on my religious-themed paintings. This is a topic that really annoys people. It can be dangerous to discuss or even criticize religion in the United States. Some of my religious paintings (or rather atheists) have occupied the national news (CNN, Fox, etc.). For the first time in 2008, I received some threats against my life. It was disturbing, to say the least. For the last two years, I've kept my hands off these difficult issues, fearing that they will 'cancel' me or anger some of my collectors. I live in the United States, in a country that's divided almost 50/50 in its views on most issues. I really can not afford to distance half of my audience and be too overt on the most controversial issues of today – the culture of cancellation is blowing on our backs. But when it comes to vegan art or an issue related to animal rights, I am not worried about talking or insulting. It's something I know one hundred percent that I'm on the right side of the barricade.".

Ellyn's new series of paintings that focuses on insects is a bit unusual from her previous paintings, which were much more colorful and detailed. In the past year, part of the United States had been flooded with Cicadas, which appear once every 17 years, so they are a significant topic of conversation for the short period they are around. Ellyn says that "If you live in an area with Cicadas, they are a very present part of your life when they emerge. It's borderline apocalyptic, and I find it absolutely fascinating. These insects were the second-largest current event, apart from the coronavirus, so I drew them. They were a welcomed distraction for me and for all the people who snatched the paintings as fast as I could paint them. It's a healthy break for me to draw simple and quick things from time to time".
Do you think that the COVID-19 pandemic has affected your art in any way?
"I've been working as a painter full time for many years. With the pandemic outbreak, I've found myself with even more time to find a muse and many new emotions to process. I was grateful that my art has kept me occupied and helped me process the madness that is happening in the world. I finished my first painting on the plague about a week after the announcement of a new and 'strange' disease in early February 2020. In the months that followed, I've created a frenzy of Corona-inspired paintings. Epidemics have been a topic that has fascinated me for as long as I can remember. In 2006, panic erupted due to the 'Bird flu' epidemic. Then in 2009, there was an outbreak of 'Swine flu'. In each of these moments in history, I drew a lot about them. The documentation of the epidemic in the paintings is from a desire to delineate significant events in a time capsule".
Is there a painting or two that you can point at as the pinnacle of your work?
"I can point at two that have certainly stood out in the history of my career so far. The first is "Baby Back Ribs", I have been told so much that it is my most threatening and disturbing painting. The painting accurately depicts how bold art can produce influence. It was selected for the exhibition "Grotesque in Art" at the Museum of Art in St. Petersburg, Russia, in 2018. And the second painting is "Teaching Moment". It gained immense visibility and fame thanks to social media.
On the one hand, the networks have distributed my paintings, but on the other hand, my paintings often appear in articles without credit. Despite the copyright issue, some part of me is happy that my art is out there, being active, influencing the world, and helping to spread the message as planned. This is life in the modern digital world".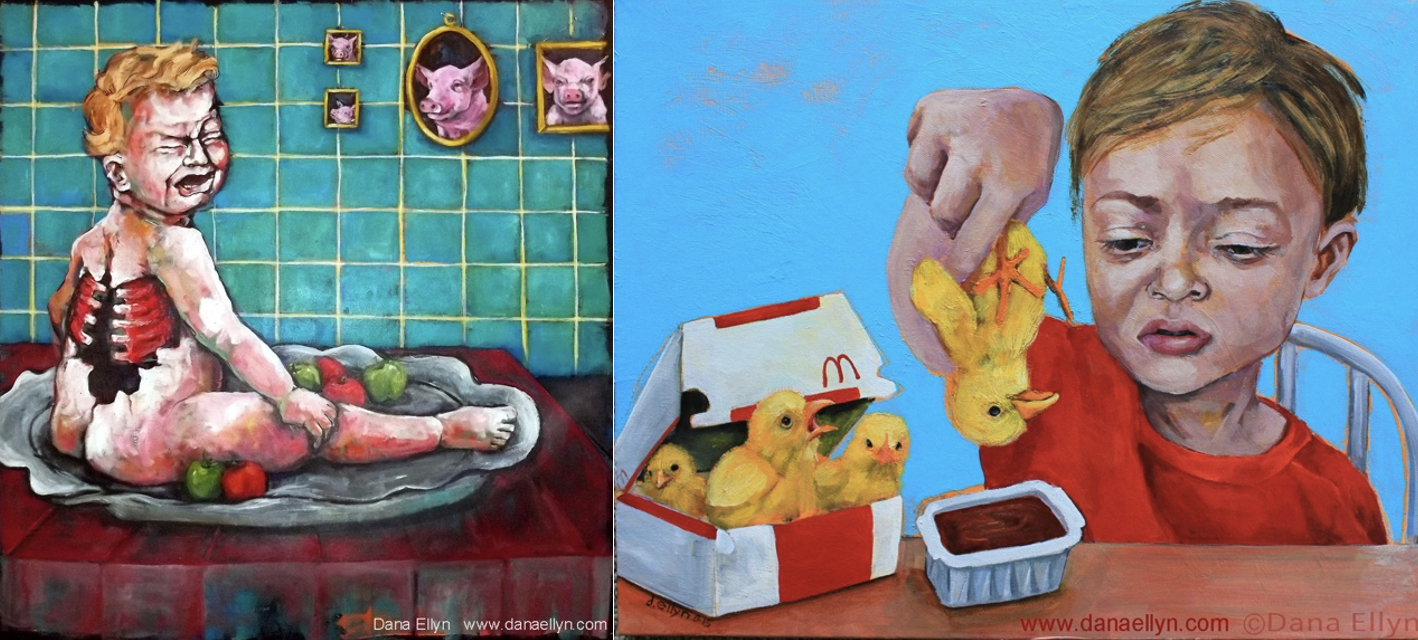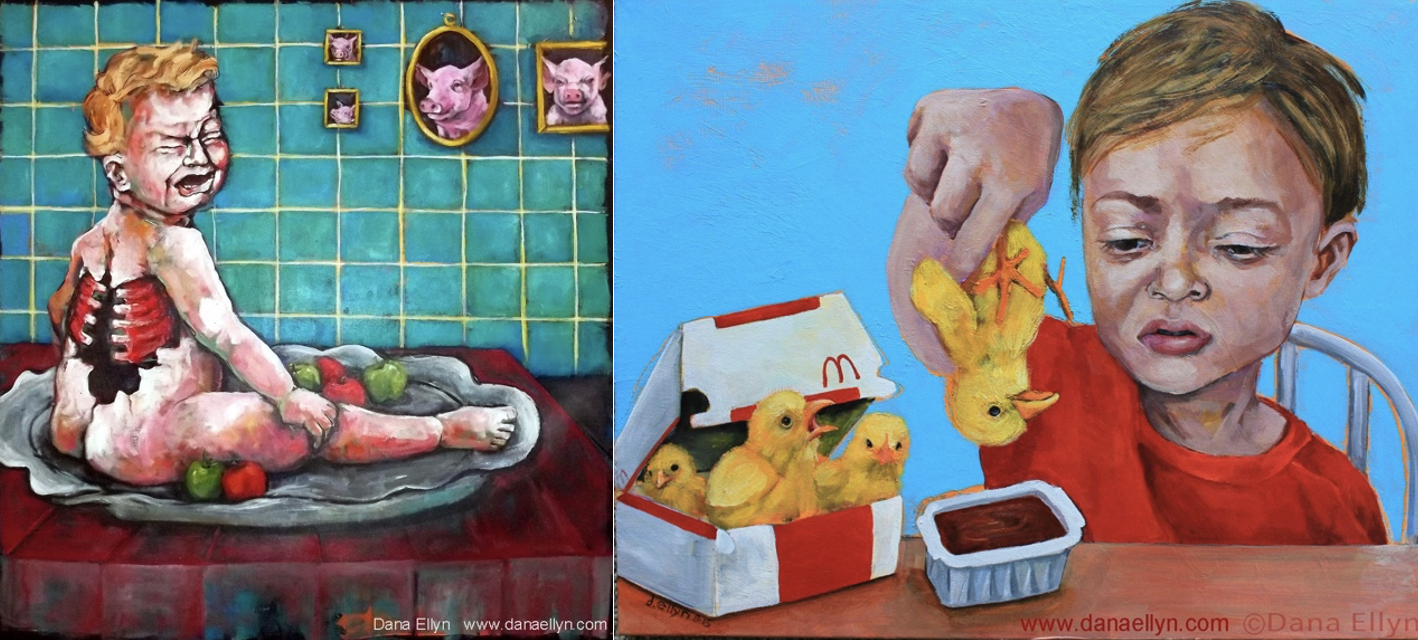 What subjects would you like to convey in this period using your art?
"The world is exploding with problems, and I have a lot of solid opinions on almost every subject. One of the benefits of being 50 is confidence in your own opinions and on the contrary, the ability to keep an open mind. I'm afraid that so many people these days are too fixated on their own opinions, unforgiving or open to the opinions of others, and thus a bond of silence is formed that is sometimes difficult to unravel".
What would be your advice to the young artist?
"I can only speak from my experience. Life skills and business skills are almost as essential as artistic talent. If you want to make a living from art, you must be motivated from a young age. Give yourself tasks and complete them, even if no one sees the results, and is there to pat you on the back. But most importantly, do not look at others to find your purpose – find what speaks to you and inspires you."